On Tuesday, February 26, 2019, David M. Valentovich of Middletown, DE, devoted husband of Marschia, son, brother, and friend, passed away at the age of 65.
David was born on March 28, 1953, in Uniontown, Pennsylvania to Joseph R. and Veronica (Briscar) Valentovich. He attended St. Johnís the Evangelist grade and high school and graduated in 1971. He graduated and received a B.S. in Business Administration/Accounting from St. Vincentís College in Latrobe, PA. in 1975. David began work for Volkswagen of America in 1976 in New Stanton, PA. On December 28, 1985, he married Marschia Ann Wood in Lenoir, N.C. and they made their home in Youngwood, Pa. David then transferred to Houston, and he and Marschia relocated to Texas. After another transfer, he and Marschia relocated to Middletown, DE and David retired as Port Manager for Volkswagen at the Port of Wilmington, DE after 32 years of service.
David maintained a passion for photography to capture images of multiple subjects and people in the world around him. David also took pleasure in writing thoughts, observations, poetry and expressions of emotions.
Another of Davidís great loves was the cat family that was an ongoing and important part of his life from the beginning of his marriage to Marschia.
Other avid interests included transportation of all kinds, particularly cars and trains, space, ocean life, travel, and reading. He loved music of various genres and his all-time favorite band was the Beatles. Staying in touch with friends and family was very important to David.
David was known for his sense of humor, his deep spirituality, and his kindness and willingness to help a friend or stranger.
David was preceded in death by his father, Joseph.
He will forever be remembered by his wife, Marschia, his mother, Veronica of Uniontown, Pa., a sister, Renee Pramuk (Dan), three brothers, Christopher, Joseph, and James (Carole), 4 nieces and nephews, 6 grand-nieces and nephews, and multiple cousins.
A funeral Mass will be held on Friday, March 15th at 10 am at St. John the Evangelist Roman Catholic Church, 88 S Pennsylvania Ave., Uniontown, PA 15401. Te celebrant will be Father Anthony Klimko.
In lieu of flowers, the family asks that donations be made to either the Delaware Humane Association or the Cancer Research Association, N.Y., N.Y.
A future memorial service will be held in Middletown, to be announced at a later date.
Daniels & Hutchinson Funeral Home - Middletown, Delaware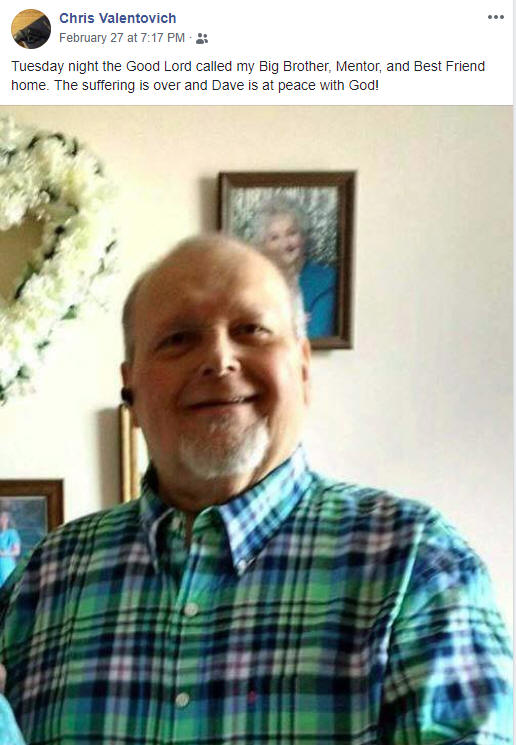 click here to see Facebook comments

Renee's Facebook Post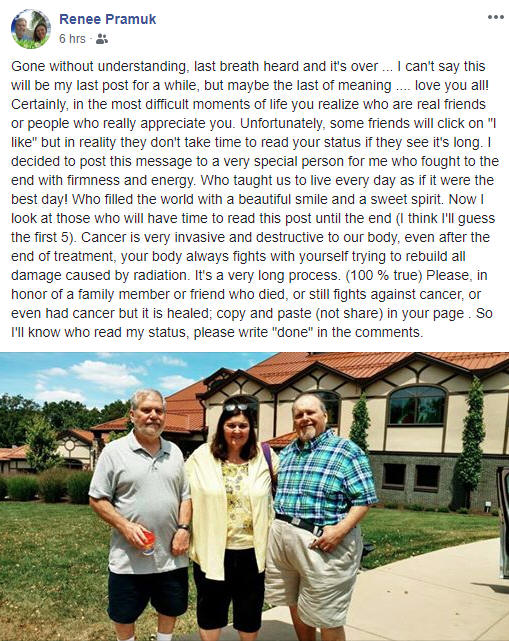 Dan Pramuk, Renee Pramuk, David
David and Chris throwing Frisbee at Twin Lakes Park
in Mount Pleasant circa 1983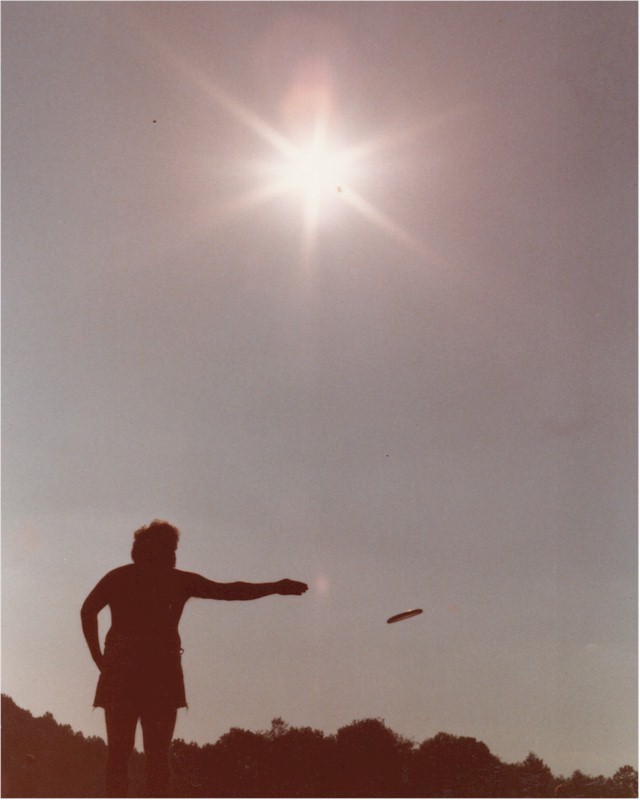 "When the Lord comes in His majesty, and all the angels with Him, death will be destroyed
and all things will be subject to Him. Meanwhile some of His disciples are exiles on earth.
Some have finished with this life and are being purified. Others are in glory, beholding
"Clearly God Himself triune and one as He is". (Vatican II, The Church, 49).
Chris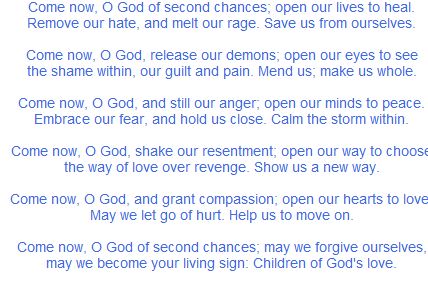 Mystery Santa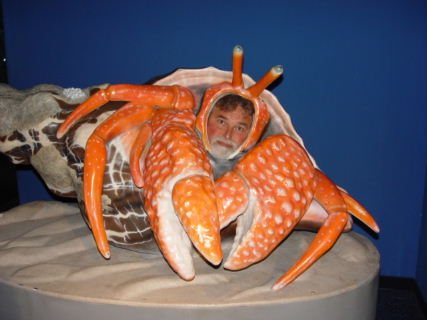 Halloween 2009 - Crabby Man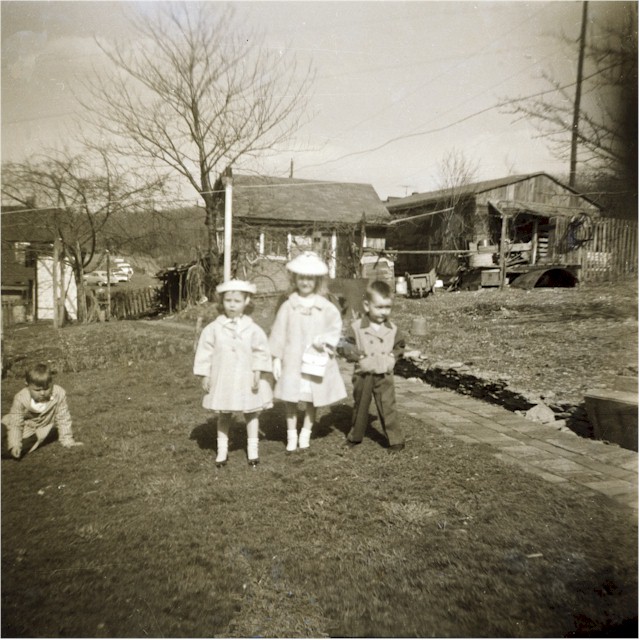 David, Judy Gallagher, Ann Marie Gallagher, Johnny Gallagher
at the Briscar house in Lemont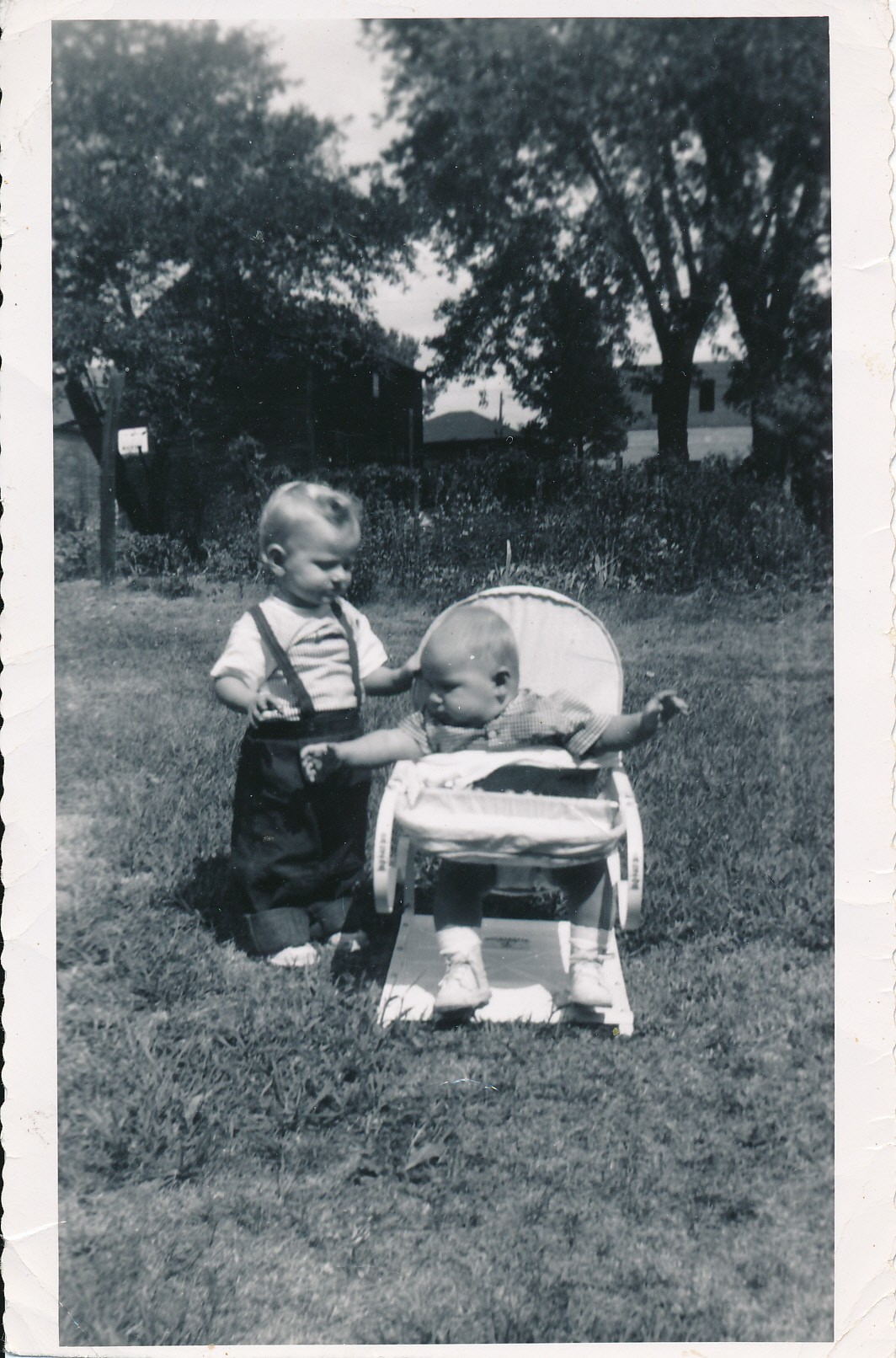 Best Buds - David and Ann Marie Gallagher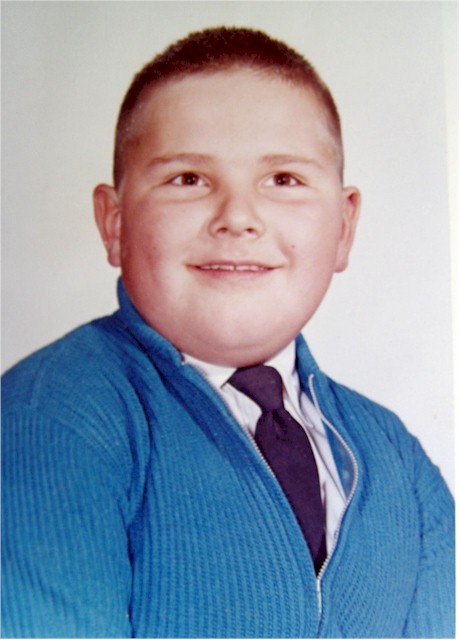 David at 9 years of age
David sent the following email message to me on August 8, 2010: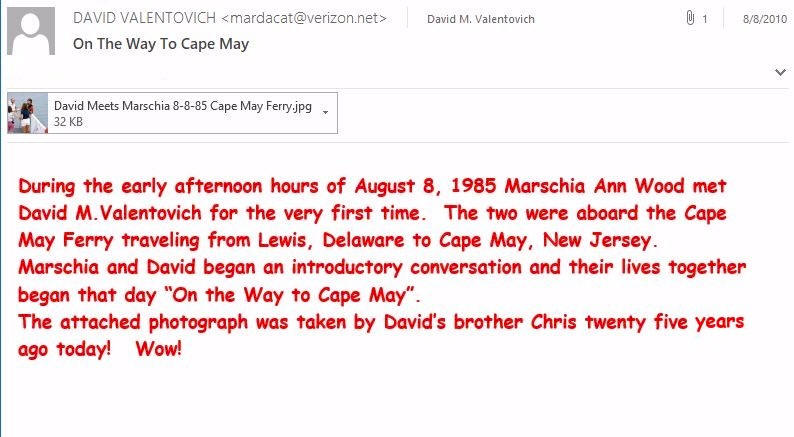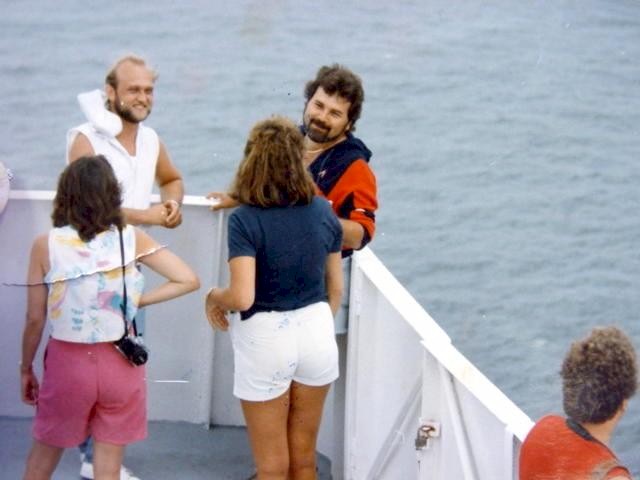 On the way to Cape May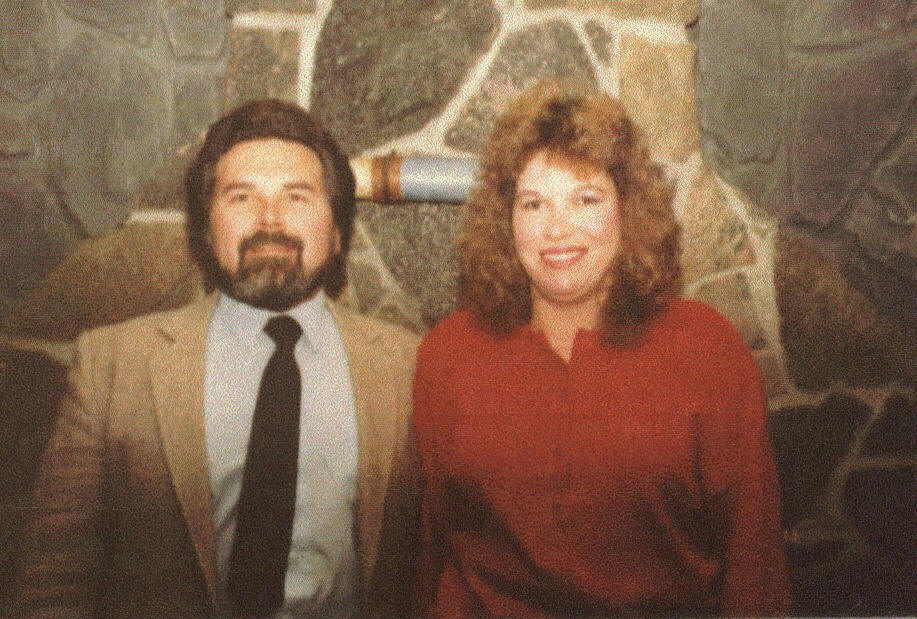 David and Marschia


David with family - Mother Veronica, Sister Renee,
Brothers Joe(Mick), Chris, Jim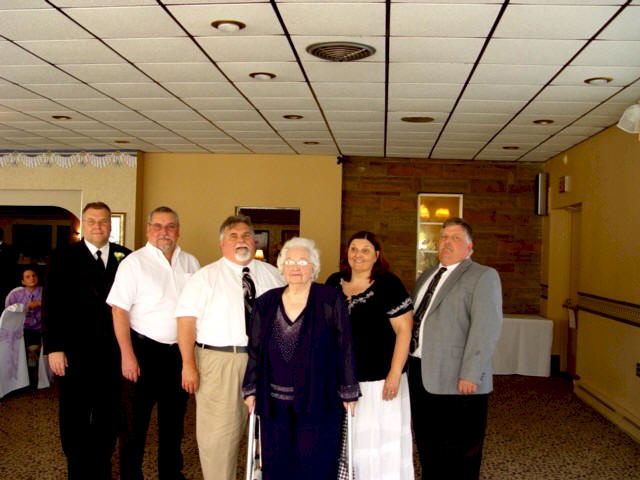 Jim, Chris, David, Veronica, Renee, Joe(Mick)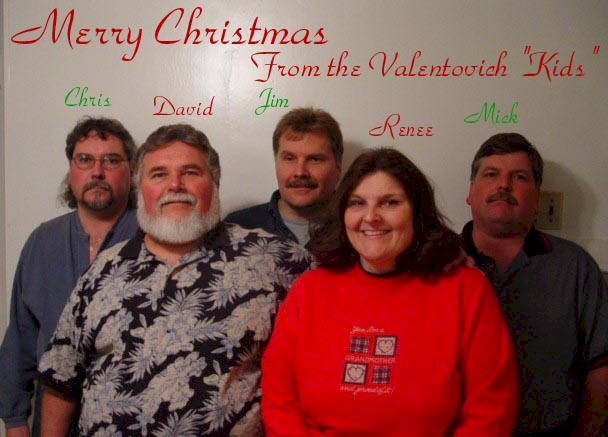 Merry Christmas