This section will be used to keep the family informed
of any news, births, weddings, celebrations, etc.
Let me know what's going on in your life and it will be
posted here. Send info via email to richard@briscar.com
Birthdays and Anniversaries
This month
2 December 1959 Gerald ELLSWORTH Jr. (64)
2 December 2002 Aaron Connor PRESTON (21)
4 December 1965 Lewis MAHALLICK and Dianne CHUSKA (58)
19 December 2008 William Joseph RYANT JR. (15)
21 December 1967 Larry Gene ISOM and Mary Ellen BRISCAR (56)
21 December 2012 David Vincent FORTIER (11)
26 December 2012 Andrew Vincent JAZBEC and Elizabeth Nelle MAULT (11)
27 December 2012 Maria Lynn ISABELLA (11)
30 December 1970 Curt David BRISCAR (53)
30 December 1989 Sagan LAMPE (34)




Need more info? Click here to see the Family Tree
The birthdays shown above come from the family history database and show the maiden names of our ladies. If you have a birthday this month and your name does not appear there is only one reason - I don't have a record of it.

IN MEMORIAM

JANET MARIE TURNEY

JUL 16, 1962 - NOV 14, 2023

In Memory of Janet Turney - Click Here

Photos of Ambrose's
Surprise Party


IN MEMORIAM

WILLIAM NEWELL STOOTS

Jan 23, 1946 - Aug 27, 2023

In Memory of William Stoots - Click Here
| | |
| --- | --- |
| | Photos of the 2023 Briscar Reunion |
| | |
| --- | --- |
| | Theresa Ellsworth Kiser celebrated her 60th birthday in May, 2023. Theresa is shown here with cousins Rosanna and Richard Briscar. |
Congratulations to Ally Fortier, who graduated from Saint John School Pre-School on June 2. Sister Kate Fortier is next to her. The boys (left to right) are brother David Fortier and cousins Elias, Victor and Tristan Jiminez. All these kiddos are grandchildren of Kathy Streets.

June, 2023
Congratulations to Sadie Teal, pictured here with her grandparents Don and Andrea Blakely. Sadie has achieved her Associate of Science Pre-Nursing Degree from Georgia Military College.

June, 2023

Congratulations to Ben Isom, who has earned a 4.0 GPA all during middle school. Ben is pictured here with his parents, Becky and James Isom.

June 2023
| | |
| --- | --- |
| | |
The End of A Generation
The two lovely ladies appearing below were the last of a generation. All our Grandparents, Aunts, and Uncles have passed onto their final rewards, leaving us to lead and provide for the future growth of our families.

Veronica Briscar Valentovich


John S. Briscar - Anna Mika
Mary Briscar - John (Bill) Ellsworth
Helen Briscar - John Chuska
Vincent Briscar - Mary Agnes Stoots
Sally Briscar - Herschell Sampson
Joseph Briscar - Elizabeth Valentovich
Veronica Briscar - Joseph Valentovich
Dolores Briscar - John Gallagher


Dorothy Stoots Hurst


Richard N. Stoots - Genevieve Schnepp
James Stoots - Dorothea Swink
Catherine Stoots - Elmer Hughes, Otto Michel
Elizabeth Stoots - John Gajdosik
Mary Agnes Stoots - Vincent Briscar
William (Pete) Stoots - Evelyn Smith
Joseph Stoots - Vera Brown
Dorothy Stoots - Henry Siesky, William Hurst
John (Mike) Stoots - Sarah Mullnix

IN MEMORIAM

DOROTHY STOOTS HURST

APR 21, 1924 - jan 2, 2023


In Memory of Dorothy Stoots Hurst - Click Here


IN MEMORIAM

VERONICA M. BRISCAR VALENTOVICH

APR 27, 1929 - SEP 3, 2022


In Memory of Veronica M. Briscar Valentovich - Click Here

Daniel Isom, Ph.D., researcher and assistant professor at the University of Miami Miller School of Medicine, is making scientific breakthroughs in cancer research and treatment.

Christmas In July - 2022. Photos of our Cleveland family at their first family function since the COVID pandemic.


IN MEMORIAM

WILLIAM EDWARD CARTER

dec 23, 1971 - apr 7, 2022


In Memory of William Edward Carter - Click Here


IN MEMORIAM

WALTER ANDREW LUCAS

Jun 21, 1941 - apr 13, 2022


In Memory of Walter Andrew Lucas - Click Here


IN MEMORIAM

RITA ANN WALKER

DEC 13, 1936 - SEP 26, 2021


In Memory of Rita Ann Walker - Click Here

Welcome to the world, Faye Dunn Briscar - Click Here

Welcome to the world, Gracelyn Noelle Briscar - Click Here


IN MEMORIAM

JOSEPH m. VALENTOVICH

FEB 13, 1961 - mAR 10, 2021


In Memory of Joseph M. Valentovich - Click Here


IN MEMORIAM

SHIRLEY D. HANN-DETWILER

FEB 1, 1935 - mAR 7, 2021


In Memory of Shirley D. Hann-Detwiler - Click Here


IN MEMORIAM

PAUL R. KELLEY JR.

MAR 9, 1969 - JAN 20, 2021


In Memory of Paul R. Kelley JR - Click here


IN MEMORIAM

RICHARD a. STOOTS

MAR 9, 1941 - NOV 3, 2020


In Memory of Richard A. Stoots - Click Here


IN MEMORIAM

GERALD W. ELLSWORTH

JUN 21, 1938 - MAR 17, 2020



In Memory of Gerald Ellsworth - Click Here

Welcome to the world, Aiden Hargnett - Click Here


IN MEMORIAM

David M. Valentovich

MAR 28 ,1953 - FEB 26, 2019


In Memory of David Valentovich - Click Here

A Sunday visit to Patterson's Apple Farm - Click Here.

Welcome to our family, Ellison McKenzie Briscar - Click Here.

Welcome to the world, Felix Vincent Rios - Click here.

Joseph Briscar Graduates from American University in DC - Click here.

Veronica Briscar Valentovich Celebrated her 89th Birthday on
April 27, 2018

See the photos of her celebration.


IN MEMORIAM

ALLEN j. oKORN

Jul 21,1949 - dEC 3, 2016


In Memory of Allen Okorn - Click Here

Merry Christmas 2015

Joseph and Sagan

Juliette, Jessica, Josh, Julian, Don and Sandy, Stuart and Amanda,
Joseph and Sagan, Candace and Evan

IN MEMORIAM

ADAM j. ELLSWORTH

FEB 5, 1990 - MAY 27, 2015


In memory of Adam Ellsworth - Click Here

Meet Stuart and Amanda Briscar - Nov 22, 2014 - Click Here

Victor Manuel Jiminez - Oct 1, 2014 - Click Here


IN MEMORIAM

IRENE R. BRISCAR

oct 23, 1934 - jan 12, 2014


In memory of Irene Briscar - Click Here


IN MEMORIAM

ELMER E. WALKER

MAY 26, 1935 - DEC 19, 2013


In memory of Elmer Walker - Click Here


IN MEMORIAM

ELIZABETH F. BRISCAR

AUG 23, 1923 - MAR 15, 2013


In memory of our beloved Aunt Betty - Click Here


David Vincent Fortier - Dec 21 2012 - Click Here

Don Briscar celebrated a milestone birthday in Pigeon Forge - Click Here

Kaylee Lynn Ryant - June 2, 2011 - Click Here
Meet Mr. and Mrs. Sean Mowbray. Natalie Pramuk and Sean Mowray exchanged wedding vows July 16, 2010 in Florida.

Click on the photo of the bride and groom to see the photos.

Abigail Marie Okorn - May 11, 2020 - Click Here


Benjamin Vincent Isom - March 31, 2010 - Click Here
A new group of artists has come together to produce "We Are The World",
but nothing can top the original. April 5, 1985 was a memorable day, and a special day in the
life of Don Briscar. Click Here to find out why.
Halloween 2009

Click Here
for all the individual pics





IN MEMORIAM

FLORENCE L. BOEHMER

SEP 1, 1939 - JUL 19, 2009



Florence Boehmer passed away July 19, 2009 after a courageous battle with ALS - Lou Gehrig's disease.

Click on the photo for details.

Jim Valentovich, Jr - April, 2009

Congratulations to Jim Jr. as he graduated from the University of Pittsburgh at Greensburg.

Click on the photo for details
Meet Mr. and Mrs. John Manning
On May 30, 2009 John Manning and Megan Kilburn exchanged wedding vows in Sonora, California.

Click on the photo of the Bride and Groom to see more pictures.
May 9, 2009 was a memorable day for Stuart Briscar...

as he attained his Bachelor of Science - Accounting degree from North Carolina Wesleyan College in Rocky Mount, NC

Veronica Briscar Valentovich celebrated her 80th birthday on April 27, 2009.

A few days later she had a surprise 80th birthday party with all her children, grandchildren and friends present. Veronica would like to share these photos with us.
Click on the photo to see who attended the party.
Hi, I'm Kaitlyn
Do you remember me? I remember you. I'm Kaitlyn Smith and we met last spring after my baptism. A few weeks ago I took Mommy and Daddy and my grandparents to a photo studio because I wanted a picture of my family. They behaved very well and the picture was very nice. Click on my picture to see how nicely it turned out.





click me

David and Marschia's Christmas Tree - submitted by David Valentovich

The Christmas Season has passed and it is time to crank up the New Year. As I go on to live each of the remaining days of 2009 I felt a desire to share these four photographs from the Marsc

h

ia and David Christmas in Delaware. The one that says Happy New Year I was blessed to photograph on a cold January morning in 2006. It has served to be the dawn of every new year for me since then.

God Bless you. David.




November Scholastic Achievements for

Tyler and Emily Briscar

Congratulations to Tyler and Emily for outstanding achievements at Central Middle School in Euclid, Ohio.

Tyler earned Honor Roll status in November.

Emily has been named Student Of The Month for November and is on the Merit Roll.

Both Tyler and Emily take school very seriously, and deserve the praise of all their
family members and friends. Keep up the good work!




Graduates 2008

Congratulations to our recent graduates, Micella Kaiser and William McCafferty.

Micella graduated from Warren Christian School and will attend Virginia Marti College of Fashion Design.

Whose smile do you see? I has been said that physical features pass on from one generation to another. You have heard people say things like "he has his daddy's eyes" or "she has her mother's nose". Whose smile do you see here? Click Here to find out.



Happy New Year 2008 From The Teals - Click on the image for a larger representation and more info.

A Valentovich Thanksgiving - This past Thanksgiving the Valentovich family gathered at the home of their Matriarch, Veronica Valentovich. Click on the image to see a larger representation.

IN MEMORIAM

MARY AGNES BRISCAR

8-1-1918 - 9-22-2007




(click photo)

June Graduates 2007

Joseph Raymond Briscar, son of Don and Sandy Briscar of Rocky Mount, NC graduated from Rocky Mount High School. Joseph has been accepted at North Carolina State University where he will pursue a career in motion picture film directing.

Cindy Manning, daughter of John and Judy Manning of Cleveland, OH has graduated from Villa Angela - St. Joseph High School, and has been accepted at Cleveland State University where she will pursue a career in Business Management.

David Valentovich Retirement Announcement


Sent: Thursday, March 15, 2007 9:59 AM

Subject: Retirement Notice




Effective March 30, 2007,

Dave Valentovich

will be leaving Volkswagen. After 30 years of service, Dave is looking forward to his retirement.

Dave began his career with Volkswagen during November of 1976 in Transportation at the Westmoreland Assembly Plant located in New Stanton, PA. Then in 1988 moved to the Port of Houston working in the PIA, Port Operations, and VPC departments. Dave was transferred to Port Wilmington in 1992 as the Distribution and Inventory Supervisor. In 1995, he was promoted to Port Manager. Due to his engagement and knowledge, he was able to drive the port to its success today.

Please join us in thanking Dave for his many years of service and dedication, and we wish him and his wife Marschia a healthy and happy retirement.

Christine Judd Mindy Weinberger

General Manager Port & Railhead Operations Human Resources Consultant

-------
Congratulations, Dave, from everyone in the family!
Meet Aidan Ben Smithburger. Ron and Alyssa Smithburger would like to introduce us to their newest family member. Ben was born November 22, 2006. Big brother Shane has been teaching Aidan about the wonders of life.

Click on the photo to see the Birth Announcement

Meet The Briskars - John Briscar was related to the Briskars but details of the relationship are unclear. This is our chance to finally meet some new family members.

Click here


IN MEMORIAM

STEVEN L. BRISKAR

7-22-1947 - 12-13-2006


Stacie Scott has informed us that her father, Steve Briskar, died on Dec. 13, 2006 in Clearfield. He had been battling cancer for many years. Steve was the son of the late Steve Briskar, who was a brother of Rudy Briskar.

Click here to see the memorial tribute to Steve Briskar (including a photo gallery)

Graduates 2006

The spring of 2006 was eventful time in our family and cause for celebration. Three cousins (and a Mr. and Mrs.) received advanced education degrees. Congratulations go out to Daniel Isom, Sandra Isom, John Manning and Rachel Okorn.

You all remember Julian Briscar from his baby pictures on the web album page. As sure as the grass grows and snow falls, little boys don't stay little for very long. Mom Jessica has sent us some recent photos. Julian wants his grandparents, Don and Sandy Briscar, to see how handsome he looks.

Click on Julian's picture to see more.

| | |
| --- | --- |
| | What do Donald Trump and Chris Valentovich have in common? Well, Donald Trump is a billionaire and Chris is still working at becoming one. Click the photo to find out more. |

Anniversary Celebrations

Congratulations to Dan and Renee (Valentovich) Pramuk on the celebration of their 25th wedding anniversary June 20th.
Ambrose and Irene (Lucas) Briscar celebrated 50 years of marriage on May 28th. Sincere congratulations from all the family.

| | |
| --- | --- |
| | Zoe Grace Martel is the newest addition to our family. Born January 26, 2006, Zoe is the daughter of Bob and Nancy Martel of Strongsville, Ohio. If you would like to see some more pictures of Zoe, just click on her picture or choose Web Albums from the main menu. |

Christmas 2005 Greetings from the Valentovich Kids. They all got together one weekend in the fall and though it would be a great time to take the Christmas picture. How many of us remember them as little kids? I know I do, and I'm proud of all they have accomplished. They are the children of Joseph and Veronica Briscar Valentovich.

Click on the photo to see a larger representation.



Jonathan Briscar got what he has always wanted - a Mohawk haircut. His uncle Brett did the original damage and dad Curt finished it up. It's a good thing school is out for the summer or a certain boy would either be in detention or be expelled. *sigh*






Nancy Briscar Martel ... Ever since Aunt Cookie gave Nancy her first scrapbook

when she was 8 years old, Nancy has been making scrapbooks. And while that's not very unusual in itself, it turns out that Nancy's works have been published in a major journal. In Nancy's own words, " My scrapbook pages, entitled, "The Best Christmas Pageant Ever" appear in "The Journaler's Handbook" by Tracy White, (Creating Keepsakes, 2005). I have three layouts appearing in The Premiere Issue of "My Life in a Scrapbook Ezine," set to be released on April 1, 2005" .--Nancy Briscar-Martel
Come see my Scrap Book Bio http://www.ScrapSubmit.Com/Bio.php?3852 and while you are at it, feel free to check out my weblog at http://scrappyknees.blogspot.com .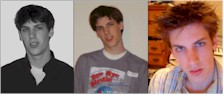 One of the visitors to our web site signed the guest book and wrote "Stuart Briscar is a hottie".
Is he or isn't he? Find out for yourself. Check out his web site at http://www.stuartbriscar.com


Somebody turned 50 years old this past July. Do you have any idea who it may be? Click here to find out.
Chris Valentovich has a new friend he would like you to meet. Click here.

Two New Additions To Our Family!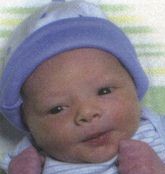 April 27, 2004 - Scott And Tracie Smithburger announce the birth of their son Connor Joseph Smithburger. Connor came into the world at 7 lbs. 6 oz. and 20 inches long.
click for a larger picture


December 2, 2002 - Eric and Tiffani Preston proudly announce the birth of their son Aaron Connor Preston. Aaron joins brother Branden (1995) and Jessica (1999) in Warner Robins, GA. Eric is the son of Bobby Preston and Billie Ellsworth Preston. Eric promises some pictures soon.


Another New Family Member ! This is what we have been waiting for.
Ron and Alyssa Smithburger proudly announce their new arrival.
Well, Shane is here!!

He was born on 1-14-03 (same birthday as my father Dave Smithburger) weighing in at 7 pounds and 9 ounces. A whopping 20 inches long too.

Shane is doing well. He is feeding, sleeping and pooping up a storm. This little version of me is the best. I am so glad I waited to find Alyssa to procreate. Imagine Shane's disposition having her as a Mom. She loves him.

I am telling you, we should all be so lucky. I will get some pictures scanned soon for emailing purposes.

Later all.

Why is Mick Valentovich Smiling?

December 2, 2002 was the first day of the dear season in Pennsylvania and Mick, a second year hunter, bagged a 5-point buck on the first day! In Mick's own words...
"I just wanted to ad some more information to the pictures of First Kill. The thought can over me, that the location of the kill would be interesting for the web site.

Chuck Mitchell and I were hunting just outside of Lemont Furnace on that
day. We started out at the intersection of Beeson Hill, Polecat Rd, and Jumonville Rd. The journey took us up over the hill toward Craig Lane and Beeson Farm, across what was long ago the Kennedy Landfill.

The push up the hill was negative, so we returned to the bottom. I found an ash roadway to follow and it took me behind the Coolspring Ball Field. I made the first kill only about two hundred yards from Hopwood-Coolspring Rd.


I hope that this will allow those readers that know the area how plentiful deer are in the low lands."

Mick


And why is Santa so sad?
Because he just found out that his brother killed Bambi!
Julian Nicholas Briscar

Jessica Briscar brought Julian into the world on February 22, 2002 at Floyd Medical Center in Rome, GA. Julian is the grandchild of Don and Sandy Briscar. Julian's uncles Stuart, Joseph and Evan don't give him a moment's rest.
Graduates 2002

Valerie S. Soto

Fayetteville, NC - Congratulations to Valerie Soto, Graduate Cum Laude of Massey Hill Classical High School. Valerie is a NC Academic Scholar and has received the Presidential Award For Academic Excellence. Valerie is the daughter of Israel and Judy Soto.
Careers
Curt Briscar
Cleveland, Ohio - Congratulations to Curt Briscar on his new position as Help Desk Specialist with the prestigious law firm of Ulmer & Berne LLP, Attorneys at Law. Curt's experience in Customer Support, Tech Support, Web Site Design and Consulting provide the foundation for a potentially long and rewarding career.
Further congratulations are in order for Curt, as he has been named Assistant editor of Music's Bottom Line, a magazine dedicated to the promotion of today's music and its musicmakers. In addition to maintaining the Web Site, Curt's responsibilities include such duties as coordinating interviews and releases with all of the major labels. Visit Music's Bottom Line at http://www.mblzine.com .

In Loving Memory of
Helen M. Briscar Chuska
February 20, 1915 - June 15, 2001
Engagement Announcement

Ron Smithburger and Alyssa Peskin are pleased to announce their engagement. The wedding is planned for October 6, 2001. Best wishes Ron and Alyssa!
Wedding Bells for Dan Isom and Sandy Martin
May 27, 2001 - Willoughby Hills, Ohio

Daniel Isom and Sandra Martin took the vows of Holy Matrimony at Pine Ridge Country Club in Willoughby Hills.

Sandy is the daughter of Bill and Debbie Martin of Eastlake, Ohio and Dan is the son of Larry and Mary Ellen (Briscar) Isom, also of Eastlake.
Dan and Sandy currently reside with their dog, Ruby in Baltimore, where Dan is pursuing his Doctorate in Micro-Biophysics at Johns Hopkins University. Sandy is employed at Johns Hopkins.

Wedding bells for James Isom and Becky Fischlin
| | | |
| --- | --- | --- |
| | Eastlake, Ohio October 21,2000 - James Isom and Rebecca Lynn Fischlin exchanged wedding vows at St. Justin's Church in Eastlake. James and Becky reside in Willoughby, Ohio with Becky's daughter, Autumn. The bride is the daughter of Joe and Judy Fischlin and the groom is the son of Larry and Mary Ellen Isom | |
Kathy Is a Hit with The Streets
Geneva, Ohio August 5, 2000 - Kathryn Ann Briscar Okorn became an instant hit with the Streets family and she and David Ray Streets were married at the home of the groom. The bride was given away by her son, Nathan Okorn. Kathy also became an instant grandmother as David's son and daughter-in-law recently had their first child.

Graduates 2000
John Robert Manning
June 14, 2000 - Villa Angela-St. Joseph High School - Cleveland, Ohio
John is the recipient of the USMC Distinguished Athlete Award and is a member of the National Honor Society. John was awarded the Dean's Scholarship and will attend Ohio Northern University. John is the son of John Manning and Judy Briscar Manning.
Rachel Lynne Okorn
June 11, 2000 - Geneva Area High School - Geneva, Ohio
Rachel will attend Lakeland Community College in the fall. She is the Daughter of Allen Okorn and Kathy Briscar Okorn.
Benjamin Joseph Pramuk
June 2, 2000 - Laurel Highlands High School - Uniontown, Pennsylvania
Ben will attend the University of Pittsburgh in Oakland and will major in Film Studies. Ben also received his Eagle Scout Award September 19, 1999. Ben is the son of Dan Pramuk and Renee Valentovich Pramuk.
Jessica Leigh Briscar
May 27, 2000 - Rome High School - Rome, Georgia
Jessica will attend Georgia State University in the fall. Jessica is an aspiring journalist and the Daughter of Don Briscar and Sandie McCullers Briscar.
Daniel Gerard Isom
May 21, 2000 - Case Western Reserve University - Cleveland, Ohio
Daniel graduated With Honors with a Bachelor of Arts in Biochemistry and Chemistry. Daniel will attend Johns Hopkins University. Dan is the son of Larry Isom and Mary Ellen Briscar Isom.
Careers
James Isom
June, 2000 - Eastlake, Ohio - James Isom has successfully passed the Paramedic and Fireman's examinations required by the State of Ohio and will serve in the Willoughby and Eastlake Fire Departments. James is the son of Larry Isom and Mary Ellen Briscar Isom.