The Coal and Coke Heritage Center
The Coal and Coke Heritage Center is back online after being out of service for a while. Sponsored by Penn State Fayette Campus, this site is dedicated to preserving the history of the Connellsville Coke Region. (Photo used with permission).
(note: sometimes this site is down for maintenance and not available)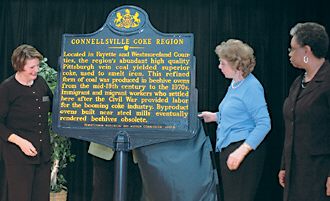 Historical Marker Dedicated To Local Miners
A historical marker honoring those who worked long hours underground, mining coal, was dedicated during a ceremony at Penn State Fayette, The Eberly Campus.
Click on the photo to visit the site
The Appalachian Treasures Gateway
is a directory of sites with content appropriate for research about Appalachian history, culture, physical and social environments, social customs, and images and stereotypes. It also includes links to bibliographies, organizations, events and other gateways focusing on Appalachia.
Take the time to visit this web site for a great learning experience.